Vessels
Works on Paper
Graphite, gold and ink on cotton rag paper
Graifít, ór agus dúch ar phár
"This work explores the symbolism of voyages and change.
The images are of floating ships filled with a cargo of rich colour and gold.
I began this work during a residency on the Lofoten Islands in Northern Norway. The work developed and changed over a number of years into the vessel pieces you see here."
I exhibit this work in Ireland and New Zealand.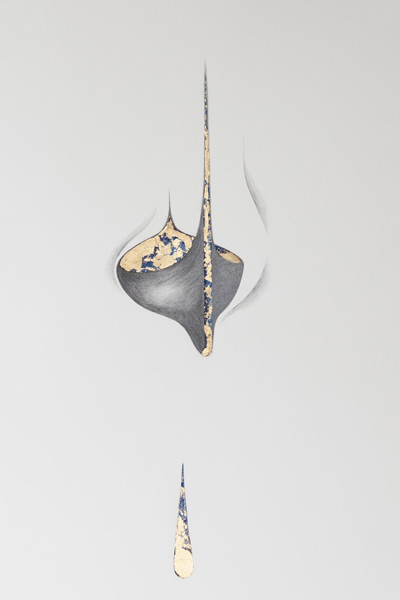 Artist Statement
I researched this work in Denmark and Norway, visiting the Viking Ship Museum at Roskilde, a graveyard of boat shaped graves at Lindholm Hoje and the Oseberg and Gokstad ships in Oslo.
The powerful symbolism of Viking ship burials captivated my interest. These vessels were taken out of the water and buried to carry the dead on their journey to the next world.
As I worked I became more interested in the balance and weight of the vessels. I extended the shapes. Some became mathematical – crescents and arcs masquerading as ships. Others have long oars and weights – to steady the vessel and keep it on course.
In most of the images the ship is travelling towards the viewer, pulling you into the viewing space. The ship and its context are described in monotones; the cargo in colour, the most precious of which is gold.
How this work is made…
I chose the best papers – Fabriano from Italy, Saunders and Somerset from Britain. These heavy, cotton rag papers are soft and have a very slight skin-like texture that comes through when I work the graphite onto the paper surface. They are beautiful to handle and almost creamy to touch. I want the artworks to have a cool, almost museum-like feel, so I choose book white or very slightly off-white paper.
Then I work careful shapes into the paper surface and burnish them into being, pulling these vessels into the image space. There is no decoration on the vessels. I like to think the balance between image and paper invites the viewer to focus on the object described.
Occasionally there is a rope, pendulum or a suggestion of a horizon or compass on the page. This gives the work a little context and allows for a breathing space around the subject.
The colour comes from richly pigmented and shellac-based Sennelier inks. Shellac gives the colours density and a slight shine.
Then there's a layer of size, a sticky, slightly pink fluid that's brushed over the colour. When it dries I 'haw'on it, mouth open like a child on a frosty morning. The moisture from my breath makes the size sticky enough to attract the gold leaf.
Working with gold brings immediate symbolism to the work. It's just beautiful when it catches the light, changing and reflecting different colours. I wanted the vessels to contain precious cargo, and the surrounding areas to support that without demanding attention. Each decision, intuitive at first and then deliberate, has been based around this idea.

If you are interested in buying a piece- please click here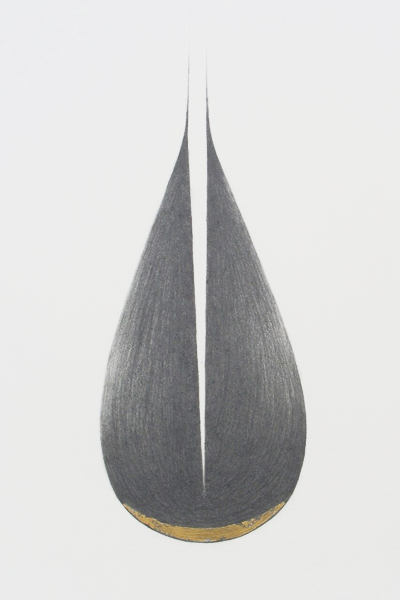 Mermaids Purse – Graphite, ink & gold on paper